Affiliate Spotlight
Why do I support Komen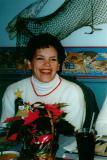 "My name is Jeannine Jersey, and I am a proud Board member for the North Central Alabama chapter of Susan G. Komen for the Cure. Why do I support Komen? For one reason: I do it in memory of my late mother.
My mother, Diane Jenkins Jersey, was the best woman I have ever had the honor of knowing, and it would mean more than anything to have her alive today. I am preparing to become a mother for the first time myself (any day now!), and her presence is the single thing I want more than anything. Unfortunately, she passed away from breast cancer 12 years ago, at the age of 50.
If you had known my mom, you would know that she wanted nothing more than to raise her children and see them become parents…and then, spoil her grandchildren completely rotten. I hate the fact that she missed on the chance to live long enough to experience that joy, especially now that the arrival of this little one is imminent.
My mom was first diagnosed when I was a senior in high school, and battled bravely and valiantly while my brother, a junior named Kevin, and my sister, a middle schooler named Jessica, went about trying to live our lives as normally as possible. She tried to keep the true extent of her illness from us, wanting us to be shielded from the side effects of the chemotherapy she was taking, and if we ever expressed concern for her, she valiantly deflected it or assured us that she was in good hands, that my dad was taking good care of her, that the doctors and nurses were providing excellent care, that her friends were supporting her, and that God was comforting her.
Just in time for my high school graduation, my mom finished her treatments, and at my graduation party, she bravely debuted her new shorter haircut, going without her wig for the first time, in public. I had never been more proud or more impressed by her strength.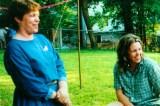 She was in remission for about 6 years after that. My brother and I both graduated high school, and went off to different colleges. My sister began her high school journey, and with each passing year, we settled into a more confident security of Mom's future health. Mom and Dad started planning for retirement, and even bought a home down at the beach so that they could start making the transition. Mom had a renewed spirit, and spent the next years active in her church, volunteering and having adventures (she even went parasailing!).
Around the time of my college graduation in December of '99, Mom started to make comments about shoulder pains and not feeling 100%. She thought it was just the effects of turning 50 that month, and assured us that she would tell her doctors about it if it got worse. She continued to be active in her church and with various support groups, and even helped to organize fundraising events – all the while, her cancer was back…and we didn't know yet.
One of the things that haunts me is that I vividly remember my mom saying when she was diagnosed that all she ever really wanted was to see her kids graduate from high school, that anything over that would be a bonus. My sister graduated from high school at the end of May of 2000, and within three weeks, on Father's Day, my mother was so jaundiced that she had to be hospitalized. She never came home, and our family has never been the same.
Diane Jenkins Jersey passed away on July 11, 2000 from cancer that had metastasized basically everywhere: her liver, pancreas, brain, and bones. By the time she was hospitalized, it was too late to treat her any further, and we had to say goodbye to the best woman I have ever known.
Even 12 years later, I miss my mother with a fierceness that I never thought possible. I literally feel like a part of me is missing. Especially now, as I am preparing to make the journey of motherhood myself, there are times each day that I reach for the phone to call her and ask her a question or share a fun update with her. Heaven may have gained an angel that day, but the world is worse off without her here.
Quite simply, through the money raised by Susan G. Komen for the Cure, more moms, sisters, daughters, friends, wives, co-workers, neighbors, and aunts will get to live to see another day. Every woman deserves that chance.
So, why do I support Komen? So that no other son or daughter has to lose their mother. So that no other husband has to watch his high school sweetheart die. So that no other sister has to say goodbye to her favorite sibling. So that no other friend has to be deprived of the companionship of an incredible woman. So that no other grandchild has to grow up hearing stories of how Grandma was when she was alive, but instead gets to know the loving embrace of her arms."
- Jeannine Jersey
Donate today to support Jeannine at the upcoming Race for the Cure!
| | |
| --- | --- |
| | We are happy to share that on Tuesday, August 28th Jeannine welcomed her baby girl into the world who she aptly named Diana Dawn. |
---
"Because I Can"

"Though it was more than 11 years ago, I can remember May 23, 2001 as vividly as if it were yesterday. I know exactly where I was, what I was doing and even recall with great accuracy what I was wearing at the time I got the call. I also remember my father's exact words and my mother's deafening silence when they called to deliver the devastating news that she had been diagnosed with cancer. I knew of its gravity and pervasiveness but, quite frankly I was far removed from the disease prior to that moment. It had not directly affected me or my circle of close family and friends until then.

In December of that year after my mom had finished all of the requisite treatments and was declared cancer free, I started to think about the disease from a more global persepctive. I pondered what I could and should do for the cause and began by making donations to the various organizations dedicated to eradicating cancer of any type. That sounds a lot more lofty than it is but I did what I could afford when opportunities presented themselves. After doing that for several years, I wanted to do more.
The sad reality is that, in the time it takes to read this, four people will have been diagnosed with breast cancer. They and the countless others affected by breast cancer and other types of this dreadful disease are the reasons I decided to dedicate 3 days to walk 60 miles on three separate occasions. After the second time, I was asked about my future plans to do the walk and I replied that I would if I had a personal reason for doing so. In the meantime, I moved to Birmingham and registered as a Speaker's Bureau volunteer with the Susan G. Komen North Central Alabama Affiliate.
Within one year's time my friend Lisa who had been on my 3 Day team in 2007 was diagnosed with metastatic cancer. Shortly after that, I also learned my friend Chandra, another friend's wife Tracy and my college roommate Robin were all diagnosed with breast cancer. The personal reasons I dreaded had in fact happened and I found myself registering for the 2010 San Diego 3 Day Walk. Three of the four of those ladies died before that event. Despite her brave fight, Robin also passed away in February of this year.
It turns out that my grief was interrupted by concern for my own health this time. As I was preparing to travel to Michigan for Robin's memorial service, I got a call saying there was a problem with the mammogram I had the week before and I needed to come back in for further testing. After an ultrasound and another mammogram I was told there was definitely something there and that I needed to have a biopsy. I did and that resulted in having a lumpectomy to remove a radial scar which thankfully was not malignant.
I'm grateful for my personal result but the truth is, my story pales in comparison to all of the other illness and loss of late. I marvel at the courage and strength it takes to battle cancer regardless of the outcome. I pray that a cure will be found soon but until then, I'll keep fighting...for the cause…for the challenge...for my health. I'll fight for those who are fighting for their lives...for the survivors...for those who couldn't....because I can….because I believe someday there will be a world without cancer!"
- Valerie Thomas, 2012 Race for the Cure Participant

Join Valerie in honoring her Mom and friends Lisa, Chandra, Tracy, and Robin on October 20th, 2012 at the Race for the Cure!
Who will you be fighting for?
---
KOMEN DOLLARS IN ACTION: THE 2012 DEEP-SOUTH INSTITUTE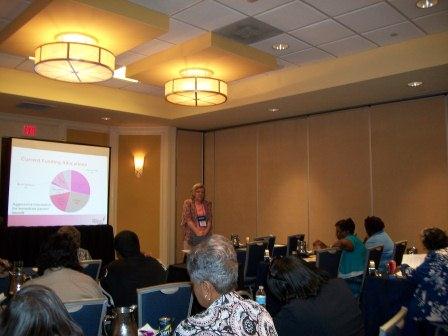 The Institute is a bi-annual conference to bring together community partners, including CHARPs, university researchers and staff to provide additional information regarding the Deep South Network, targeted cancers, and an opportunity for all of us to increase our capacity by continual sharing of information and resources as we work to eliminate cancer disparities in Alabama and Mississippi. This year the DSN Institute took place June 4-6, 2012, at the Renaissance Riverview Plaza hotel in Mobile, AL. There were 249 total attendees from 20 counties in Alabama and Mississippi. There were also 72 K-CHAs (DSN trained Komen CHARPs) who attended from the Komen counties of Greene, Hale, Jefferson, Perry, and Sumter.

The theme of the conference was "From Outreach and Awareness to Research: Conducting Community-Based Research to Eliminate Cancer Health Disparities". Some of the highlights included the Monday night interactive portrayal of the movie "The Artist" where CHARPs got a chance to show off their artistic abilities by silently acting out DSN key messages such as "Eat 5 or more colorful fruits and vegetables every day" and "Get a mammogram every year". The Advocates in Science presentation presented by Dr. Beverly Laird and the Tuesday dinner banquet which focused on the K-CHA program and shared the 30 years of Komen video presentation were also memoriable moments.
---
Claudia Hardy, MPA leads Board of Directors to carry out the Komen vision of a world without breast cancer.
The North Central Alabama Affiliate recently appointed Claudia Hardy as the President of its board of directors. Hardy leads the existing board members as an ambassador to carry the Komen vision of a world without breast cancer into North Central Alabama communities.
With over 15 years of leadership experience, Hardy brings her vast public health experience to the Komen North Central Alabama board of directors. Her strength health disparities program development, management and leadership will be valuable as Komen North Central Alabama continues to establish its presence throughout the north central region of the State. In addition, her previous non-profit board experience will play a critical role as Komen North Central Alabama works to expand its reach and impact throughout the region.
"We are privileged to have such a talented professional and visionary lead our team here at Komen North Central Alabama," said Ellen Zahariadis, Executive Director of Komen North Central Alabama. "We expect great things in the year ahead and know that Claudia will play a vital role in our continued success."
Claudia Hardy is the Program Director for the Office of Community Outreach and the Deep South Network for Cancer Control; a five-year National Cancer Institute Community Network Program (CNP) awarded to the University of Alabama at Birmingham (UAB) Comprehensive Cancer Center. This is the second 5-year community-based, NCI funded program in which Claudia has managed and directed in a senior staff/research capacity. Claudia provides the administrative leadership for this community-based cancer prevention program that is aimed at eliminating the disparity in cancer death rates between blacks and white in the Deep South.
Prior to this appointment, Claudia served as the Coordinator for Community Outreach for the UAB Comprehensive Cancer Center division of Cancer Control and Population Science. As Outreach Coordinator, she was responsible for assisting the Associate Director for Community Research and the Cancer Prevention and Control Planning Committee in identifying cancer issues and problems within the community and region; and develops outreach prevention and control programs to address specific needs. Previously, Claudia worked as the Program Manager/Outreach Coordinator for the UAB Continence Program in the Division of Gerontology.
Claudia holds a BA in Communication Arts specializing in Public Relations and a Master of Public Administration (MPA) specializing in Organizational Management Behavior from UAB. In 2007, she was nominated to serve a 3-year term on the Susan G. Komen for the Cure African American National Advisory Council. She has also served on a number of community organization boards. Currently, she is a member of UAB National Alumni Society Board of Directors and The UAB Alzheimer's Research Center Minority Outreach Advisory Board. In addition, she volunteers her time with the local Susan G. Komen for the Cure, North Central Alabama Affiliate for the past 5 years; American Cancer Society Mid-South Division for nearly 10 years, United Way of Central Alabama Grants Allocation Committee and other local civic groups.
Claudia's areas of interest and expertise are minority health issues/disparities, (community) organizational development, Community-Based Participatory Research (CBPR), strategic planning, grants administration, group facilitator/trainer, minority recruitment and retention in clinical trails, grant reviewer, access/ barriers to health care, program development, special event coordination and consultant to various related health issues. Claudia has trained over 1,000 Community Health Advisors in cancer prevention and control.
Most recently, she has taken her knowledge and expertise of the Community Health Advisors model to another level by training Komen Community Health Advisors (K-CHAs) for breast cancer outreach in 5 medically underserved communities in Jefferson, Hale, Perry, Sumter and Green Counties. In January, Claudia took her outreach efforts internationally as she traveled to Lusaka Zambia where she began to a project looking at reducing stigma associated with HIV-related cancers.
Personal:
Claudia is the fourth child of Willie James and the late Frances Smiley Hardy. She has 6 siblings and spends as much time as possible with her family, including her youngest sister, Sharonda in which she has shared a home since 1996. Her parents instilled in her a strong work ethics and taught each of their children the importance of volunteering and serving man-kind.
She is a native of Selma, (Dallas County) Alabama where in 1988 she was nominated as the first African American recipient of the Kathryn T. Windom "Girl of the year" Scholarship winner. This award was in recognition of her community service and humanitarian as a high-school senior. She is an honor graduate of Southside High School in Selma. She was baptized at the Good Hope Baptist Church in Sardis, AL where she worshipped and served faithfully in the church choir and served as a Sunday school teacher until she moved to Birmingham in 1988 to pursue a college education. She currently worships at the Peace Baptist Church in the Titusville community where she has served as Founder and Chairperson of the Women's Fellowship ministry for 6 years, Secretary of the Mission Outreach ministry, Program Committee Member, Gospel Chorus Member, Health Fair Coordinator, and various other administrative service areas. She even served PBC Board of Trustees from 2006-2009.
Claudia has received numerous awards, including the 2002 and 2001 American Cancer Society Prevention and Early Detection Volunteer of the year; 2006-2007 Outstanding Volunteer Pink Ribbon Award for Susan G. Komen for the Cure North Central Alabama Affiliate; 2005-2006 American Cancer Society, Mid-South Division Inc, Alabama Volunteer of the Year- Health Initiatives; 2005-2006 American Cancer Society, Mid-South Division, Inc., Community Volunteer of the Year; 2005 National Cancer Institute Center to Reduce Cancer Health Disparities Special Populations Networks for Cancer Awareness Research & Training "2000 -2005 Community Health Research Resource Award (SPN Staff); and 2003 recipient of the UAB Comprehensive Cancer Center 2003 Director's Award
In addition, she is a founding member of Mahogany Book Club - an African American Book Club based in Birmingham. In her spare time she loves to go to the movies, catch a great comedy act at the Stardome Comedy Club, bargain-shop or travel with her sisters and girlfriends.
Claudia's greatest love is serving mankind. She lives by the scripture: "To whom much is given, much is required".